Conventions & Incentives programmes
The conventions and incentives (C&I) sector is all about running seamless events, where people can meet and mingle in an environment conducive to business. 
---
It's a growing part of New Zealand's tourism industry. Sometimes known as 'business tourism', this sector is set up to cater to groups of visiting conference delegates.
Your staff need to be well trained, organised, hard working, have an eye for detail and a passion for delivering great service. No matter the size of your business, or the size and number of conventions or incentives programmes you run, the people you employ will make a big difference to your success.
Your staff have to know what they're doing all the time, they need to be on the ball and able to react to any situation, delivering results on time and budget, and keeping customers happy. That takes dedication, the right attitude, training, good skills and knowledge.
---
Choose the right programme for you
ServiceIQ's programmes take between six months to two years to complete. Employees learn at their own pace and training mostly takes place in the workplace.


Essential skills - Tourism event management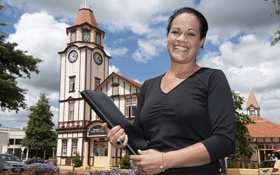 C&I Professional Award – New Zealand Diploma in Tourism Conventions and Incentives – Level 5