Quick Service Restaurant programmes
Whether you run the local takeaway or manage a 24-hour fast-food restaurant chain, the people you employ will make a big difference to your success. Unlike many businesses, you have just a few short moments of customer interaction to make a great impression and, unlike a traditional restaurant, you don't have long to put something right if it does go wrong.
---
We offer professional skills and know-how for many different roles including: general manager, duty manager, owner/operator, food and beverage manager, restaurant manager, counter and service staff and barista plus many of the roles involved in running a kitchen.
Each programme is easily completed on the job, and around your business. And each leads to excellent service for your customers and national qualifications for your people.
---
Choose the right programme for you
ServiceIQ's programmes take between four months to two years to complete. Employees learn at their own pace and training mostly takes place in the workplace.
Hospitality Savvy Award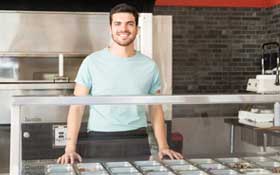 New Zealand Certificate in Food & Beverage Service with a strand in Quick Service Restaurants Services – Level 3
New Zealand Certificate in Food & Beverage with a strand in Quick Service Restaurants Services – Level 4
New Zealand Certificate in Hospitality (Advanced) with a strand in Quick Service Restaurants Services – Level 5